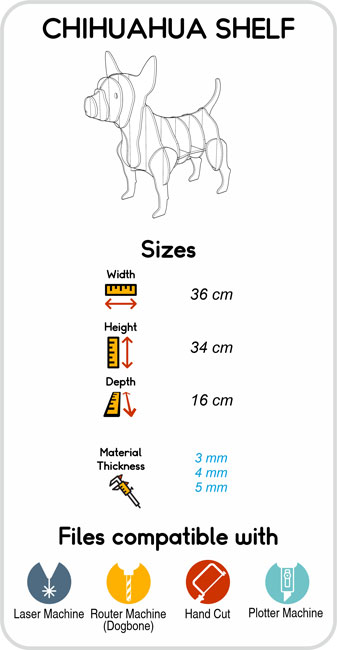 Single Download
Choose and download 1 option among the sizes offered
Private Use
Download .dxf file
Technical advice service and professional support
Non Commercial License
Only 1 download
Find out more about the Single Download (
Read more
)
Commercial License
Download all the sizes options offered whenever you want
Service of file customization with dimensions and material thickness on demand
Official Commercial License Agreement
License term of 1 year (renewable)
Technical advice service and professional support
Download .dxf file
Pack of HD photos of the ended product
HD customizable assembly instructions
Access to the Dashboard for 1 year from purchase date
Find out more about the Commercial License (
Read more
)
Maximum production limit per year of about 48 units.
Besides it is considered large-scale production.
For big companies or wholesalers,
Contact us
Instructions step by step
Produce and sell our designs together with the assembly instructions.
For each of our products, with your purchase you will receive an illustrated instructions model to make the item step by step. You can customize the instructions with your logo company and offer to your customers a truly complete product. The instructions sheet will accompany and simplify the assembly, make it easier by following the numbering system (available only with the Commercial License).

Each Modifile product is designed with care, conceived using the latest technology to ensure a quick easy assembly, planned with precision using fitted slotted construction: the union of design and technology.
Materials
Choose your own materials and fabricate your products at home or at a neighborhood maker space. Join the revolution of designing globally and fabricating locally.

Our designs are suitable for cutting on cnc machines, laser and milling, they can also be cut manually, each of our products will inform you about it. Great for decoration of any room, house, apartment, office, bar, club, this item will give your interior a unique personality.